За битвой в спортивном арбитражном суде CAS будут пристально следить ключевые коммерческие партнеры футбольного клуба. «Манчестер Сити» формирует правовую стратегию защиты , согласно которой он будет утверждать, что не только не нарушает правила, но и то, что эти правила вообще не должны существовать.
FT,18 Feb 2020
Murad Ahmed and Arash Massoudi in London
As Manchester City's players returned to training following their winter break, executives at the Premier League champions spent the weekend preparing for their biggest battle yet. The decision late last week by Uefa, European football's governing body, to ban the club from the Champions League for the next two seasons after "serious breaches" of so-called financial fair play rules has raised questions over whether its much-admired manager, Pep Guardiola, as well as its superstar players, will stay.
The unprecedented sanction comes with more than just reputational damage and a €30m fine. Exclusion from Europe's most prestigious club football competition would result in the loss of revenues from broadcasting, prize money, sponsorship and ticketing worth up to £100m a season.
With so much at stake, Manchester City officials hunkered down with lawyers from at least three different firms to plot its defence. In the coming days, the club will appeal against Uefa's ruling to the Court of Arbitration for Sport, a body considered the ultimate arbiter of global sports disputes. "This is not about getting a smaller punishment," said a person close to the leadership of Manchester City. "This is about the substance of the case, which will finally be heard freshly by an independent group where we believe we will prevail."
As fans of rival clubs gloated over the risk of an exodus of star players, Ferran Soriano, the chief executive of City Football Group, the parent company of Manchester City and a network of sister teams around the world, held crisis talks over the weekend with a group that will follow the legal battle closely: its key commercial partners. They include US private equity group Silver Lake which in November paid $500m for a 10 per cent share in CFG, valuing the group at $4.8bn, a record for sports group.
.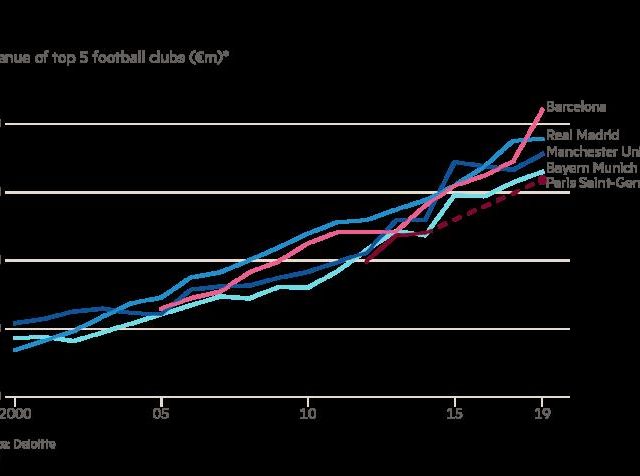 The club is now considering an explosive legal strategy in which it will not only argue that it did not breach the regulations but that these rules should not exist at all. If the legal fight were to ultimately turn on whether the FFP regime should remain, football industry executives say it could be as consequential as the Bosman ruling in 1995.
That was a European Court of Justice decision that made it easier for players to move between clubs, unleashing the modern era of multibillion-euro broadcasting deals and huge transfer signings. The ban throws into doubt the future of star players such as Raheem Sterling and manager Pep Guardiola ©
Reuters Sheikh Mansour bin Zayed al-Nahyan, a billionaire businessman and member of the Abu Dhabi royal family, bought Manchester City in 2008. He has spent hundreds of millions of pounds on world-class footballers in an effort to turn the club into a global force capable of winning the sport's biggest prizes.
The club's operations are handled by chairman Khaldoon al-Mubarak, one of the closest advisers of Sheikh Mohammed bin Zayed al-Nahyan, Abu Dhabi's crown prince and the de facto leader of the United Arab Emirates. Mr Mubarak's multiple roles include running Mubadala, a $230bn sovereign investment fund, and chairing Abu Dhabi's nuclear energy programme.
Uefa investigators began a probe last year following the publication of leaked club documents and emails obtained by German magazine Der Spiegel and provided by Rui Pinto, a Portuguese national who is facing criminal charges in his home country including for computer hacking. Mr Pinto denies the charges.
The internal emails appear to show £67.5m annual sponsorship of the club's shirt, stadium and academy by Abu Dhabi-based airline Etihad was paid in the past with a large financial "contribution" by a company owned by Sheikh Mansour, and that efforts to skirt FFP rules were directed by Manchester City executives. The club has never confirmed or denied the authenticity of the leaked emails.
According to a person with knowledge of the case, Uefa investigators even hired outside lawyers for the first time in an effort to build a watertight case that could avoid the fate of past FFP inquiries — such as against Paris Saint-Germain, AC Milan and Galatasaray — where sanctions were overturned for technical legal reasons.
"Provided Uefa don't cave in they should win at CAS," the person said, adding that it would be "very difficult" for Uefa "to back down on this one". The question now lies in whether Manchester City chooses to appeal on narrow grounds, such as whether its sponsorship deals were inflated, or if it seeks to challenge on a broader argument — that the FFP regime is an unfair constraint on clubs.
"If Man City put forward an argument that FFP is anti-competitive, and CAS agrees with that, Uefa has bigger structural problems," said Daniel Geey, a sport lawyer at Sheridans. The legal strategy the club chooses will be closely watched by Silver Lake, which went ahead with its investment in November despite the possibility of lost revenues that a Champions League ban would bring, according to people familiar with the transaction.
Silver Lake has taken other steps that reduce its risk. According to a recent Companies House filing, the private equity group acquired preference shares in CFG, meaning it ranks ahead of ordinary shareholders in the company's capital structure even though it has equal voting rights. Preference shares typically include terms that give it additional financial benefits, but those have not been disclosed. Silver Lake declined to comment.
One analyst who follows sovereign wealth funds said Silver Lake's investment could also have been inspired by an effort to build closer ties to the UAE, and in particular Mubadala. "In terms of getting closer to Abu Dhabi, I think that high-level deals nearly always involve some degree of network-building and hope that the contacts made would benefit Silver Lake in the future," said the analyst.
Another key partner is, Puma, the German sportswear maker, which early last year signed a 10-year shirt sponsorship deal with CFG worth up to £600m. However, that agreement also featured efforts to reduce Puma's financial risks, according to people familiar with its terms. The final sum paid will be affected by performance-related factors, such as if Manchester City repeatedly won the Champions League. In a statement, Puma said that "we fully trust the management of Manchester City and are convinced that these accusations will be cleared".
https://www.ft.com/content/c8e25054-519a-11ea-8841-482eed0038b1